Our Heritage
Our heritage is everything. From who we are to what we do to where we do it, comes in a nice little package, passed down from generation to generation right through our ancestry. The natural history we share with the land we call Kodagu and we are part of the Kodava community. Ancient wisdom on how to live off the land and to sustainably harvest its bounty has been part and parcel of our culture.
The pioneer of the Kallucoppa coffee estate was Mr. K G Aiyanna, who established this plantation in 1919. In the successive years the estate was looked after and expanded by his son Mr. K A Kuttaiah. Keeping to traditional principles, the coffee is intercropped with pepper, spices and other fruits giving it its unique flavour. The natural heritage is proof of the richness of this culture, with the sheer variety of trees, birds and insects found across our pristine estates. It is this same heritage that has taught us the art of making coffee, juices, wines and jams, of bringing the best out of every produce.
Every time you try something from Kallucoppa, it is truly a slice of our rich cultural and natural heritage.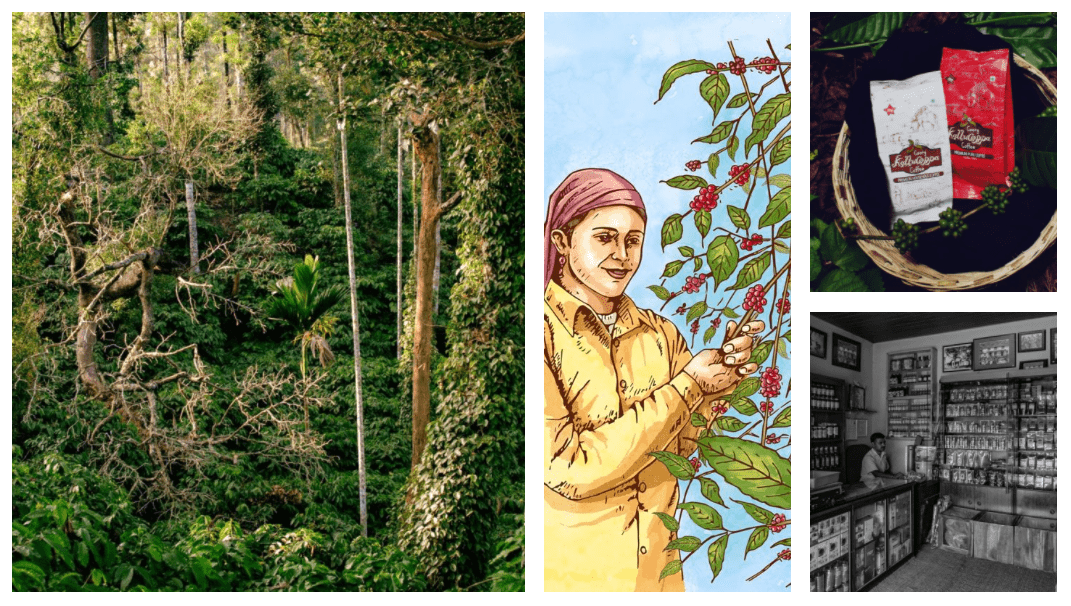 Our Story
Kodagu or Coorg as it is commonly known is widely regarded for its pristine environment, fantastic soil conditions and culture of agriculture.
Mr. K Naren Kuttaiah, the third generation to look after the Kallucoppa estate, realised one doesn't have access to such fresh produce and fantastic specialty foods outside of Coorg.
Mr. Robin Muddappa is a wealth of knowledge when it comes to coffee and roasting and has over 30 years of experience to his credit. He knew these coffee beans and how to bring the best out of them.
The two came together. The choicest beans met with the ideal roast and blend, to give you your favourite Kallucoppa Coffee.
Keeping in mind all the other fresh produce and the unique recipes that ring of mountain living, we decided to share the entire range of produce from the Kallucoppa estate.